EMM: what impact on the business model?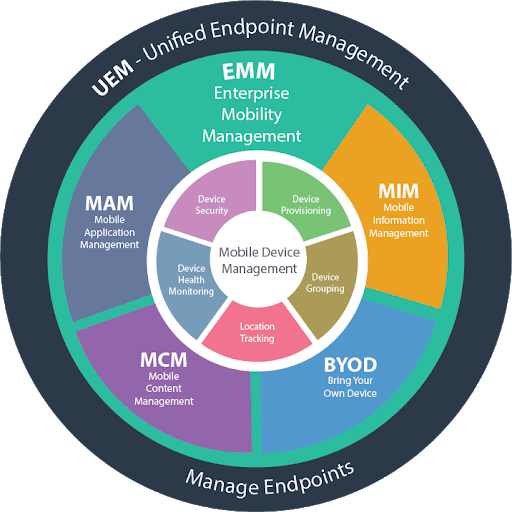 The larger your company is, the more complex the management of your mobile device fleet, more commonly referred to as "EMM" (for "Enterprise Mobility Management") will be.
And if your company has several franchises, it can get even more complicated with different types of possible solutions for each type of device, user and activity. Which solutions to choose and how to implement them? Here are our tips.
Let's start with a few questions: what exactly does EMM mean? Why does a company need to have multiple mobile fleet management solutions? Which solution should be chosen according to which user, but also according to which use? Are there as many solutions as there are companies or franchises?
What we call "Enterprise Mobility Management" is therefore the management of a company's mobile device fleet.
This management concerns both the devices that belong to the company and those that are brought in by employees (BYOD – "bring your own device", which is becoming more and more frequent).
These devices will either have to be fully controlled (with "MDM" – "Mobile Device Management" solutions) or part of them will have to be managed (via "MAM" – "Mobile Application Management" solutions).
Afterwards, you can also focus on the sensitive data contained in the device (via "MIM" – "Mobile Information Management" solutions, also called "MCM" – "Mobile Content Management"), or focus on expenses via "MEM" ("Mobile Expense Management") solutions.
However, whatever the solution, the idea is to be able to manage some (or all) of the data contained within a device, whether for security, confidentiality or management reasons.
From theory to practice
In theory, it is assumed that the EMM of a medium-sized company should be quite simple. If the company's activity is limited to a particular sector, it is easy to think that there must be a lot of similarities in the use of mobile devices by different employees – and therefore needs.
Who says few needs also says that there is no need to have several device management solutions… Yet, in practice, we notice by looking more closely that there are often very diverse uses of mobile devices within a single company, and that the use in question can drastically change according to the target population, the target device, the type of employee, his mission, etc.
So imagine what it's like for a huge company, with a multitude of franchises? It can quickly become very complex…
Fleet management
A company's EMM strategy often consists in several solutions, which depend on the number of franchises for which the different employees work, the sector and of course the activity itself.
Indeed: a sales representative in a large company will have very different needs than an engineer. Similarly, a worker on a construction site will have opposite needs to those of a senior manager who usually works in an office.
In addition to the fact that the tool itself may not always be the same (in the case of employees working outdoors, highly shock-resistant devices are sometimes required), the security and confidentiality conditions must also be personalised.
The question also arises in the case of employees who often change aircraft during particular missions. If devices are passed from hand to hand, it is essential to be able to secure user data and preserve their confidentiality – for both professional and personal reasons, of course.
Governance
How to organize the governance of such fleet management? What are the issues at stake?
First of all, the various employees must be comfortable with management solutions. If they can no longer use their devices correctly, or if they switch to a personal device because the technical patterns set up do not suit them, it can become problematic.
And the employee must also be aware that the confidentiality of his or her exchanges will be preserved, particularly if they are personal.
In the typical case of the "BYOD", the employee will not be pleased to see his company interfering in his personal tool. By definition, a mobile phone is a very personal device.
We have it in our pocket all the time, we put a lot of personal information in it. Even when it's a device provided by our company, we tend to take it over completely. We can potentially install personal apps, exchange with family and friends.
The calendar is a good part of an application that is used most of the time for professional and personal use. When we make appointments for work, we also need to know what you have planned for ourself, so it's really easier to mix the two.
However, a clear message addressed to employees, and a clear communication, will allow them to understand the stakes of this management, which, in the case of a MAM solution, is not necessarily so intrusive as they might think in the first place.
For the company, one of the key challenges will also be to be able to manage the different applications (sometimes they can grow to a hundred within a single company) via a simple platform.
Our solution
The SaaS platform provided by Appaloosa allows you to have your own environment, with a customized administration interface that manages all apps. At this level, EMM managers within the company will be able to manage all the apps, all the parameters of the solution.
And it also offer a user interface: a native mobile application developed by Appaloosa provided in white label, which can be customized by each company. It is a native app store in the company's colors, with different apps for different users.
Appaloosa's solution is used by small companies of 15-20 people to 80,000 (for La Poste), as well as by EDF (2,000 employees) or Leroy Merlin (10,000 employees).
The basic solution is the same, but in the case of 80,000 users in one single company, it obviously request more advanced configurations, authentication systems, more advanced management features, priority support.
Concrete use cases
The French national electricity company EDF uses Appaloosa's MAM solution, both for testing and validating mobile applications created by their teams, and for certain devices managed in BYOD, on which employees can access a number of professional applications.
However, there are also a number of applications and especially devices that are managed via MDM solutions.
The basic solution is the same for everyone. This is like every other SaaS platform: everyone can register online, and will have the same application base, will have access to the same functionalities.
After that, there are different "solutions" that depend on the needs of the company, with more advanced functionalities. For very large companies, we can bring more customization, stronger integrations according to their systems.
If we take the example of EDF: they have an internal authentication system, like a kind of Google login. In this case, we adapt to the needs and configurations requested.
Support is the key
It is essential to support the administrators with some training so that they are familiar with the tool, that they know how it works and that they can explain it to the various employees. One possibility is also to set up internal seminars for companies.
At Vinci Constructions, EMM managers involved decision-makers and top managers very early in the process, to test the solutions with them. After that, the deployment to the rest of the employees was much easier, they were already confident.
Appaloosa's advice: we put all our efforts into UX – the user experience. Both the administrator's and the user's. There must be no friction, and ideally someone who has no computer skills can use our solution and use it.