Android Enterprise Recommended: a catalog for devices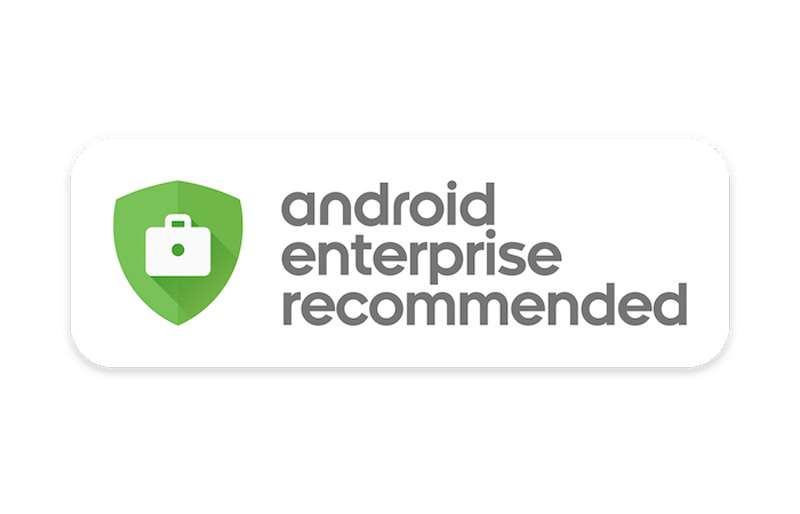 After its announcement on February 21, 2018; Google has released its Android Entreprise Recommended program which aims at providing large companies with efficient mobile management solutions.
As of now, Google's new enterprise solution focuses on 3 main objectives : selecting, deploying and managing devices that meet high enterprise requirements.
What's behind Android Enterprise Recommended ?
Besides the will to compete with Apple's take on the smartphone enterprise market, Google has to face the fact that the market is saturated with a variety of smartphone manufacturers and suffers from unreliable market adoption rates when it comes to the many different Android versions.
Android OS version adoption, from July 2017 to July 2018
Android Oreo (8.0) has barely reached 10% market share while Android 9.0 is already rolling out. Based on this observation, it's easy to understand why Google is launching an enterprise-focused solution that aims at providing companies with up-to-date smartphones that benefit from the latest updates and security patches for a long time.
From there, Google curates the best OEMs and phones that are committed to insure large-scale deployment and top-notch security updates.
Contrary to Apple's enterprise offer, Google can bet on a larger catalogue that will give the company more bargaining power when it comes to finding the right devices for a specific budget.
Besides, Google also provides a list of ruggedized smartphones for companies that need to work in harsh environmental conditions; which is made possible thanks to the variety of OEMs partners.
Quite unexpectedly, Samsung didn't make the cut as it's not present in the officiel list of recommended smartphones : it gets even more surprising knowing that Google and Samsung partnered in the making of Android for Business
As of August 2018, the list of recommended smartphones totals 39 devices including 3 tablets.
However, David Still, director of Android Enterprise, recently said that the initial list of partners will evolve soon enough.
"Throughout 2018, we will also be applying the Android Enterprise Recommended framework to additional partner types, including OEMs of "dedicated" and rugged devices, mobile carriers, enterprise mobility management (EMM) providers and systems integrators."
Google's updated list of enterprise recommended smartphones
As we said earlier, Google now provides company with a catalogue of 39 devices from different OEMs.
Google's list of enterprise recommended smartphones:
BlackBerry: BlackBerry KEYone; BlackBerry KEY2; BlackBerry Motion
Google: Google Pixel; Google Pixel XL; Google Pixel 2; Google Pixel 2 XL
Huawei: Huawei Mate 10; Huawei Mate 10 Pro; Huawei MediaPad M5 8.4; Huawei MediaPad M5 10.8; Huawei P Smart; Huawei P10; Huawei P10 Plus; Huawei P10 Lite; Huawei P20; Huawei P20 Pro
LG: LG G6; LG V30
Motorola: Moto X4; Moto Z2 Force Edition; Moto Z3 Play; Moto G6; Moto G6 Plus
Nokia: Nokia 3.1; Nokia 5.1; Nokia 6.1; Nokia 7 Plus; Nokia 8; Nokia 8 Sirocco
Sharp: Sharp Aquos SH 10-K
Sonim: Sonim XP8
Sony: Sony Xperia XA2; Sony Xperia XA2 Ultra; Sony Xperia XZ Premium; Sony Xperia XZ1; Sony Xperia XZ1 Compact; Sony Xperia XZ2; Sony Xperia XZ2 Compact
Google's strict requirements for entering the recommended smartphones list
Seeking to conquer enterprises' trust in the mobile market, Google has created a list of requirements for OEMs wanting to offer their devices on the Enterprise Recommended list :
From Google's own words :
Minimum hardware specifications for Android 7.0+ devices :
Support for bulk deployment of Android devices including zero-touch enrollment.
Delivery of Android security updates within 90 days of release from Google, for a minimum of three years.
Availability of unlocked devices, direct from manufacturer or reseller.
Consistent application experience in managed profiles and on managed devices.
Besides these guidelines, Google also came up with a more technical and detailed checklist that you can see here. Minimum OS version : Android 7.0+
Minimum device specifications
RAM : 2GB
Storage : 32GB
Speed : 1.4GHz
Battery life : 8+ hours (active)
Camera (front / rear) : 2MP / 10MP
Architecture: 64-bit
Bulk device enrollment
Enrollment methods
QR code
Zero-touch enrollment (Required for Android 8.0 devices)
UI/UX
Default Systems Apps – work profile
Contacts
Downloads
Play Store
EMM app (if bundled in the system image)
Android's Zero Touch Enrollment : how does it work ?
Deploying large-scale Android devices across international companies isn't particularly easy : Android's Zero Touch Enrollment is Google's take on helping companies achieve large-scale deployments.
Simply put, Zero Touch Enrollment helps companies to deploy corporate-owned devices without having to manually set-up each one.
Besides, the program also provides companies with ready-to-use smartphones already loaded with the right business apps and accounts so that companies save precious time in the process.
Lastly, Google came up with a 4-steps set-up flow for companies wishing to equip their company with Android devices :
Purchase : select the right devices for the right uses
Assign : assign selected devices to intended users
Configure : configure enterprise mobility management requirements
Deploy : deploy devices with the right configuration from the start and apply policies
Android vs iOS in the workplace : does Google stand a chance against Apple ?
This isn't a surprise for anyone : Apple leads the enterprise smartphone market by a large margin with an astonishing 72% market share, according to Good Technology's Mobility Index Report.
During the last five years, OEMs have had a hard time competing with Apple mainly because of Android's scattered mobile offer that has left many manufacturers competing for the same clients.
As a consequence of this internal competition, OEMs such as Huawei, Samsung or Motorola still compete in winning enterprises deals although they offer the same operating system.
On that matter, Google's Enterprise Recommended could bring more light upon Android smartphones manufacturers and maybe restore a healthier competition in the market.
For that to happen, Google and manufacturers will have to rival Apple's many advantages in the enterprise market such as :
First mover advantage
Long-lasting support
Frequent security patches and updates
Massive partnerships
It's not yet won for Google.